Applications of the M203PI 40MM
Enhanced Grenade Launcher Module
(EGLM) System

PICATINNY RAIL MOUNTING SYSTEM

Any weapon having a Picatinny Rail (MIL-STD-1913)

certified by the manufacturer for use with a 40mm grenade launcher

can attach the M203PI "Universal" Launcher, without the use of tools. The M203PI Universal has the additional versatility of allowing for either right or left hand shooting.

INTERBAR MOUNTING SYSTEM

The "Interbar" Mounting System incorporates a Mounting Rail that attaches to the rifle. In most applications, there is no alteration to the rifle. In a few versions, the Interbar Rail is inside a Modified Handguard, requiring a change to the original handguard.


SNAP-ON-LAUNCHER SYSTEM


In the Snap-On-Launcher-System (SOLA) version, the Interbar itself snaps on and off the rifle. The M203PI EGLM can be detached from the Interbar to be used on other rifle Interbars or with the Tactical Mount (see below).



TACTICAL MOUNTING SYSTEM



Since 1996, RM Equipment's M203PI Tactical Mounting System augments the "EGLM System" concept by providing a "stand-alone" platform for the grenade launcher. This compact, lightweight M203PI mount has a telescoping and folding stock assembly providing complete tactical flexibility.


M203PI on the Tactical Mount folded position



M203PI on the Tactical Mount extended position

The Universal M203PI attaches to the
Tactical Rail Mounting System and has all of the features of the Tactical EGLM model.


The Tactical Rail Mounting System has the additional application of being quickly transformed into a pistol mount,
without the use of tools.


The M203PI Grenade Launcher Module

HOME: See why you should choose the M203PI 40mm EGLM


See who owns M203PI EGLM Systems

See a developmental history of the 40mm grenade launcher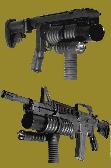 Click for 40mm.com

To see other products such as the M203grip, RailGrip, and RMgrip - go to 40mm.com


The M203PI 40mm Grenade Launcher, RMgrip™, RailGrip™ and M203grip™ Product Lines are solely manufactured by
RM® Equipment, Inc.
6975 NW 43 Street, Miami, Florida 33166 USA
TEL: 305-477-9312 FAX: 305-477-9620
info@40mm.com

RM® Equipment Inc. is a Veteran Owned Company.

RM® and the "Bang" are Registered Trade Marks and may not be used without written permission from RM Equipment, Inc. RM's product improvement process is continuous, so current versions may vary from those shown on this website. © 2012 RM® Equipment, Inc.