QUICK-ATTACH ENHANCEMENT TO THE M203 grenade launcher:

The M203 40mm grenade launcher has been enhanced by addition of the upper pylons, allowing the launcher to have a "quick attach" capability. The pylons slip into the pylon slots on various Mounting Systems. A launcher latch locks the M203 module onto the Mounting Rail preventing accidental release of the launcher.
This quick-connect system allows the M203 to to be
snapped on and off a rifle as easily as changing magazines.
With the growing use of Picatinny Rails, the M203PI Universal has been modified to attach directly to rail systems certified by the weapon manufacturer for use with 40mm grenade launchers.

BARREL LATCH LOCK:

To prevent accidental opening of the barrel, a Barrel Latch locking device has been developed.
M203 40mm firepower is ready when the Grenadier needs it.



BARREL COVER:

Each M203PI comes with a Barrel Cap, preventing destructive desert sand, dirt, branches, water and other unwanted obstacles from getting into the barrel.
The Grenadier does not have to check the barrel for obstruction
before engaging the enemy.


MACHINED BODY VERSUS CASTING:

The M203PI Module is machined out of raw aluminum stock.
Problems associated with cast M203 bodies are eliminated



UNIFORMITY OF FINISH AND STANARDIZATION OF PARTS:

One company, decades of experience manufacturing one primary product, focused on uniform quality for every part and process.




Quick-Connect Applications of the M203PI EGLM

HOME: See why you should choose the M203PI 40mm EGLM


See who owns M203PI EGLM Systems

See a developmental history of the 40mm grenade launcher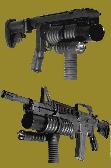 Click for 40mm.com

To see other products such as the M203grip, RailGrip, and RMgrip - go to 40mm.com


The M203PI 40mm Grenade Launcher, RMgrip™, RailGrip™ and M203grip™ Product Lines are solely manufactured by
RM® Equipment, Inc.
6975 NW 43 Street, Miami, Florida 33166 USA
TEL: 305-477-9312 FAX: 305-477-9620
info@40mm.com

RM® Equipment Inc. is a Veteran Owned Company.

RM® and the "Bang" are Registered Trade Marks and may not be used without written permission from RM Equipment, Inc. RM's product improvement process is continuous, so current versions may vary from those shown on this website. © 2012 RM® Equipment, Inc.